HealthNotDiets Digest, Issue 38, 2018
September 14 - September 20, 2018
As always, if you like what you read here, please support the original author by liking/sharing/following/up-voting/subscribing directly to their feed.
Happy reading!
Articles & Blogs
Everything You Know About Obesity Is Wrong
by Michael Hobbes
"Years from now, we will look back in horror at the counterproductive ways we addressed the obesity epidemic and the barbaric ways we treated fat people—long after we knew there was a better path.'
https://highline.huffingtonpost.com/articles/en/everything-you-know-about-obesity-is-wrong/
British Science Festival: The Weight of Expectation
by Alan Barker
"Our approach to obesity, he says, is unfair, ineffective and needs to change."
https://www.britishscienceassociation.org/blog/the-weight-of-expectation-bsf18
Are School Health Lessons Harming Kids?
by Leslie Schilling
"any body composition testing in schools that doesn't take into account a student's stage of maturity is going to be hopelessly inaccurate. And a health teacher has no business assessing a child's pubertal development."
https://health.usnews.com/wellness/for-parents/articles/2018-09-18/are-school-health-lessons-harming-kids
Super Proud Non-Diet Dietitian...
by Lori Short-Zamudio
"Being a non-diet, HAES dietitian for me is, doing what is best for those around me. Listening to others experiences, and doing all the work…and when I say all the work I mean all the work. Learn about marginalized bodies and identities. Learn about oppression. Take time to evaluate yourself and your work. Have those hard conversations that need to be had. Don't draw a line in the sand."
https://www.unapologeticallymerd.com/blog/2018/9/17/super-proud-non-diet-dietitian
Why Your Desk Job Is So Damn Exhausting
by Yossi Rathner and Mark Schier
"People most likely to have brain freeze also tend to suffer from migraines, suggesting a common underlying mechanism for both."
https://theconversation.com/amp/health-check-does-my-brain-really-freeze-when-i-eat-ice-cream-69621?__twitter_impression=true
Underwear brand Marco Marco features all Trans models at New York Fashion Week
by Attitude UK
"the all transgender show marks an important landmark for an industry in which many brands only pay lip service to diversity."Let's hope for some size and anatomical diversity here soon too- not all trans-men look like this!
https://www.attitude.co.uk/article/underwear-brand-marco-marco-features-all-trans-models-at-new-york-fashion-week/19056/
How to stop hating exercise: Let's explore your thoughts
by Jodie Arnot
"Exercise is simply sustained movement. It doesn't have to be fast, sweaty, or leave you sore."
https://www.jodiearnot.com.au/blog/how-to-stop-hating-exercise
An open letter to social media influencers and bloggers
by Sarah Pannell
"my plea to you is to be wary that what worked for you could very well cause harm to another. Many who are vulnerable get sucked into "health diets" and instead of improving their health, they now find themselves battling an eating disorder."
https://www.wepsychotherapy.org/blog/open-letter-to-influencers
My PCOS story, and what I've found to work.
by Shira Rose
"In hindsight, I was able to see that although everyone around me thought I was finally so incredibly "healthy," I was FAR from it."
https://asequinloveaffair.com/2018/09/my-pcos-story/
Three reminders to help you thrive—not merely survive—in grad school
by Neil A. Lewis, Jr.
"If you don't remember your reasons, you can easily fall into a trap of chasing (ill-fated) metrics of success instead of working on projects of purpose."
http://www.sciencemag.org/careers/2018/08/three-reminders-help-you-thrive-not-merely-survive-grad-school
A widower 'full of regret' offers advice to a young woman
by BBC UGC & Social News
"It still hurts me to think of the days and months where she was eating less in the hopes that I'd love her more," he wrote. "It makes me angry at myself."
https://www.bbc.com/news/blogs-trending-45547296
Don't pressure your picky eater -- it doesn't work
by Meredith Digital Staff
"Kids do better with eating when they get their parents undivided, positive attention," said Satter, adding the rule also applies when serving take-out or going to a restaurant. "However you put together a meal, it's still important to sit down together and pay attention to each other when you eat it."
https://amp.azfamily.com/story/38770953/dont-pressure-your-picky-eater-it-doesnt-work?__twitter_impression=true
Resources for Living with an Imperfect Body
by Toni Jackson
"You are so much more than your body. Your body is one fraction of many, varied aspects that make up who you are.You can also define yourself by aspects such as what you love doing, what you're interested in, what you're good at, your beliefs, your goals and your cultural and social identities."
https://tonijacksoncounselling.com/2018/09/14/resources-for-living-with-an-imperfect-body/
Please Don't Teach My Kids To Diet: 5 Resources To Give Teachers and Schools
by Anna Lutz
"Unfortunately, I've seen first hand children whose eating disorders were triggered by a nutrition lesson or school "wellness" program."
https://sunnysideupnutrition.com/diet-free-resources-for-schools/
For Elderly Women With Breast Cancer, Surgery May Not Be the Best Option
by Paula Span
"It's likely the surgery didn't help them live longer, and certainly not better"
https://www.nytimes.com/2018/09/14/health/breast-cancer-surgery-elderly.html?smid=tw-nythealth&smtyp=cur
Body Mass Index: the dieters' bogeyman discovered by a Belgian astronomer-mathematician
by Vanessa Heggie
Brief history of the BMI
https://www.theguardian.com/science/the-h-word/2014/jan/16/body-mass-index--discovered-by-a-belgian-astronomer-
Your brain doesn't contain memories. It IS memories.
by Nick Stockton
"there's evidence of memory-making throughout the tree of life, even in creatures with no nervous system—scientists have trained bacteria to anticipate a flash of a light"
https://www.wired.com/story/your-brain-is-memories/?mbid=social_fb_onsiteshare
Take the Cake: Why Fat Liberation Isn't About Whether Fat People Are Healthy
by Virgie Tovar
"health is a bootstrapping language that seeks to render a cultural problem into an individual problem."
https://ravishly.com/fat-liberation
Other Adults, It's Time To Stop Policing How Kids Eat
by David Minerva Clover
"please, let's cut the nonsense and just let children eat."
https://ravishly.com/stop-policing-how-kids-eat
Gabourey Sidibe Speaks Out About Size Discrimination at Curvy Con During New York Fashion Week
by Shammara Lawrence
"Even though we are moving towards more visibility for plus-size people, there is a lot [of] pushback. So it's important to keep fighting [and] to keep being visible until the conversation changes and [it] is no longer about our bodies because I'm not my body. I'm a whole person"
https://www.teenvogue.com/story/gabourey-sidibe-designers-wont-dress-her-curvy-con-new-york-fashion-week
Rihanna's NYFW show celebrates diversity with pregnant and plus-size models
by Maria Claire Dorking
"The inclusive show... featured a diverse collection of models and dancers of all races, body sizes and in the mix were two pregnant models rocking the runway with their baby bumps."
https://au.be.yahoo.com/rihannas-nyfw-show-celebrates-diversity-pregnant-plus-size-models-093431525.html
Research &
Clinical Practice
Surveillance of global physical activity: progress, evidence, and future directions
by Ding Ding
"The prevalence of physical activity has changed little over time, with a substantial gender gap (women are less active than men) in most countries."
Ding, Ding. "Surveillance of global physical activity: progress, evidence, and future directions." The Lancet Global Health (2018).
https://www.thelancet.com/journals/langlo/article/PIIS2214-109X(18)30381-4/fulltext
Patients pay attention when prescribed physical exercise
by Jocelyn Wright
"Those who received advice from their GP about exercise were more likely to recognise the importance of it and to increase their activity as a result"
https://www.australiandoctor.com.au/news/patients-pay-attention-when-prescribed-physical-exercise?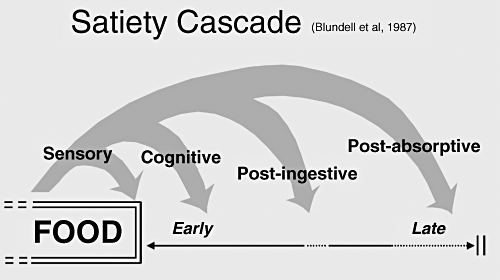 Satiation, satiety and their effects on eating behaviour
by Bridget Benelam
Interesting piece detailing the factors that influence satiation and satiety. Sections 1-5 are particularly good, before it descends into 'lets use this knowledge to shrink larger bodies' territory. The conclusion is garbage as usual.
Benelam, Bridget. "Satiation, satiety and their effects on eating behaviour." Nutrition Bulletin 34.2 (2009): 126-173.
https://onlinelibrary.wiley.com/doi/full/10.1111/j.1467-3010.2009.01753.x
Soapbox & Shareables
If you're reluctant to post in #HAES professionals groups for fear of receiving negative feedback it's a good sign that you may have some knowledge gaps, and probably some work to do interrogating your own weight-related baggage. Just like in other areas of dietetics/health professional practice, learning by osmosis is less effective than learning the theoretical frameworks, evidence base and having structured skill building support. If you've got a lived experience of weight stigma, history of failed weight loss dieting and/or an eating disorder, and rage about weight discrimination then you're likely to pick it up more readily.
_____
Many groups are great, but many others have tired of the newbie factor- this is typical in ALL social justice movements- it's a normal part of the growth of these movements because of the huge learning curve that involves challenging our social conditioning - but what it feels like to newbies is that 'we eat our young'. I've been in enough of these groups for long enough to realize that this discomfort is actually a necessary part of your growth. Lean in, be brave, feel yucky, have a cry, take it to supervision, get through it and remember your experience of it when you're watching others have their moment of reckoning.
_____
Lastly, if you have chosen to support intentional weight loss in your practice, please remember to screen your clients for disordered eating, body dissatisfaction and previous weight loss attempts. These clients are the least likely to maintain weight losses and most likely to experience worsened mental health in the long term. The evidence is clear on this. Please refer them to a HAES professional.
____
Thank you for coming to my TED talk 🤓
Like podcasts?
How about bite-sized podcasts that you can claim as professional development?!?
I've designed the Unpacking Weight Science Podcast to suit health professionals, health science students and anyone who wants to know more about human body weight, health outcomes, interpreting weight related research and the far ranging effects of weight bias.
Twice a month, my 20-30 minute podcasts unpack different elements of weight bias & stigma, weight research, BMI, health behaviours and weight neutral approaches. Paid subscribers (only $5/month!) get the podcast six months before everyone else, plus full show notes, reference list, self-test quiz and resource materials for use in practice. This equates to an hour of professional development each month :-)
Available for subscribers now is:
"When is a diet not a diet? HAES, IE and MNT'
Ep 15: Dietitians and nutrition professionals can feel like the 'nutrition baby' is being thrown out with the 'diet bathwater' when learning about the Non-Diet Approach, HAES and Intuitive Eating. Many wonder, if I can't tell people what to eat, what is left? Is there any point to dietitians? Do I just forget all my medical nutrition therapy knowledge? This existential crisis is a consequence of nutrition-related professions identifying with their key expertise being in weight management. This episode sorts the 'therapeutic wheat' from the 'fatphobic chaff' to offer you a new perspective on your professional identity.
Subscribe now at: https://www.patreon.com/UnpackingWeightScience
and instantly access 6 months of episodes before the rest of the world
Episodes 1 & 2 are now on iTunes!
Search 'Unpacking Weight Science'
to listen to them for free!
AUSTRALIAN WORKSHOPS!!
Sydney Sept 27th and Melbourne Oct 19th BOOK NOW
Bookings via www.healthnotdiets.com
Want these 'live'? Then follow me on Twitter (@FionaWiller), Facebook (@HealthNotDiets) and Instagram (@FionaWiller)
Want some training in the non-diet approach or unpacking weight science? Resources include books, courses, workshops and handouts: visit www.healthnotdiets.com
See anything you think I'd like to share or comment about? Post in the comments below or email me at fiona@healthnotdiets.com